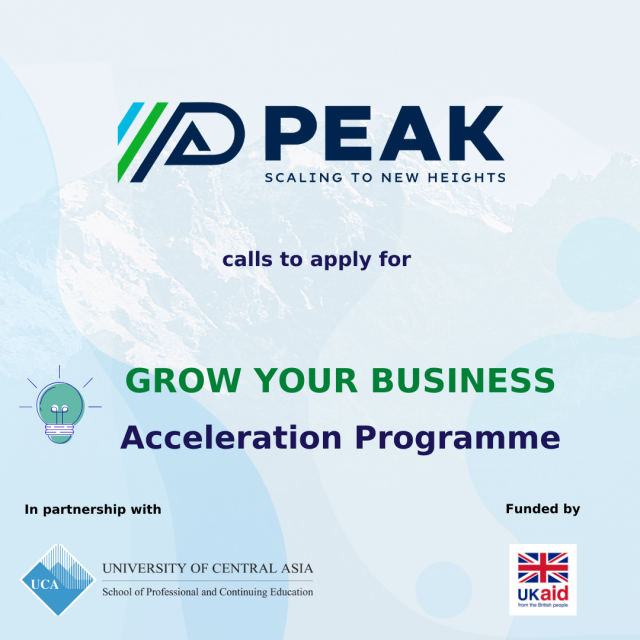 Are you looking for ways to grow your business? If you have ambitions to grow your business and you would like specialist support, then our 'Grow Your Business' Accelerator Programme is for you. The programme will be delivered jointly by PEAK Bishkek Business Innovation Centre and the University of Central Asia's School of Professional and Continuing Education (SPCE).
Applications are now open for our 7-week virtual programme for small enterprises in Bishkek and across Kyrgyzstan. Participation in the programme is free!
? What We Offer You
Weekly lively and interactive seminars focused on high-need topics relevant to small businesses in Kyrgyzstan, and delivered virtually
Weekly one-on-one (virtual) mentoring sessions with successful entrepreneurs and business experts
24/7 access to PEAK's online venture management platform
24/7 access to world-class online content available on PEAK's platform to support live work
Networking, and local and regional connectivity through two exclusive networking sessions
Subject to Covid-19 measures, access to PEAK workspaces including conference rooms, working space, and common areas.
? Who Can Apply?
Owners, general and senior managers of small enterprises of Kyrgyzstan that meet the following criteria:
Enterprise has been operating for at least 12 months and is generating revenue
Enterprise has less than 15 employees (full or part-time), and revenues of no more than 8 million Kyrgyz soms annually.
Enterprise is registered (individual entrepreneur or LLC)
Enterprise's activities are not related to alcohol, tobacco, gambling, or cause environmental harm.
Whilst the programme is not sector focused, it aims to attract businesses in the following economic sectors:

Food processing
Textiles, ready-made garments and sewing industry
Education and skills development
Transportation and logistics
Healthcare and wellbeing
Other sectors

Participants are required to have a device with good Internet
Twenty entrepreneurs will be selected and enrolled in the programme. Women, youth and
minority groups are particularly encouraged to apply.
? How to Apply?
To apply, please follow this link https://peakkg.typeform.com/to/RaDKa4. It will take less than 15 minutes to fill in the application form. Deadline for applications: 6 pm, June 14, 2020.
Thank you for considering PEAK Bishkek and UCA's SPCE as key partners in your plans to grow your business.
? Any Questions?
PEAK and UCA's School of Professional and Continuing Education teams will conduct two information sessions. Register for the information session scheduled for 5 pm, June 3, 2020 at https://forms.gle/a8Tovr5gowcBAGza6 and for 12 pm, June 10, 2020 at https://forms.gle/KjLbaM7VuA9eXaw39.
? www.peak.kg, www.ucentralasia.org
? +996 555 77 64 85