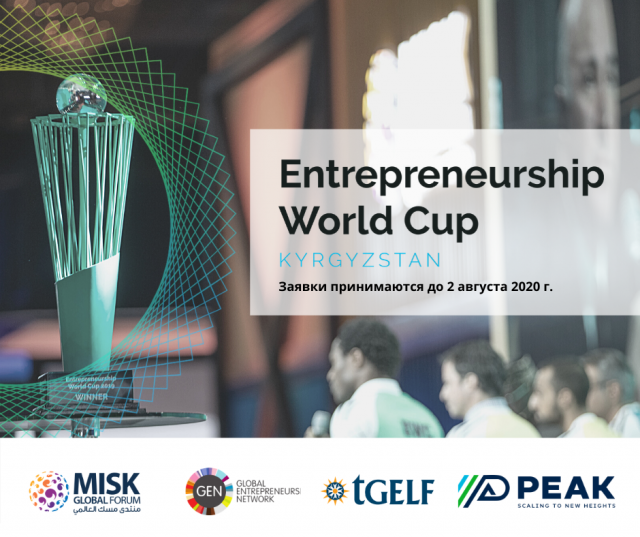 The Entrepreneurship World Cup is open for 2020 and is accepting applications – aiming to expand past the 102,000 contestants from 187 countries in its first year. The program offers a chance to pitch on a global stage for a share of US$1 million in cash prizes plus additional investment opportunities and another US$75 million in in-kind support.
The EWC is more than just a global pitch competition with a shot at life-changing prizes. It elevates entrepreneurs from all stages – idea-stage, early-stage, growth-stage or beyond – by providing them with tools and resources to grow their venture.
PEAK Enterprise and Innovation Programme (PEAK) is the official national organizer for Kyrgyzstan. PEAK programme is funded by the United Kingdom's Government and aims to guide startups and micro, small and medium enterprises in transforming their ideas and products into viable businesses, or in scaling their existing businesses nationally and to regional and international markets.
The national competition in Kyrgyzstan will be held in three stages. During the first stage (2nd July to 2nd August) PEAK will collect applications. The second stage (5-12 August) will involve a panel of judges evaluating the candidates and interviewing them.  The third stage is the National Finals competition – to be be held on August 17th – where 10 shortlisted startups and companies will virtually pitch in front of judges. The top three finalists will be nominated by PEAK to the Global Finals and will experience a combination of advanced virtual training sessions and focused one-to-one mentorship in August and September to prepare them to compete in the EWC Global Finals. The Global Finals are currently scheduled for October 2020 in Riyadh, Saudi Arabia.
Application criteria include the requirements for a startup or company to be legally registered or is planning to register soon in Kyrgyzstan, to have existed for less than seven years by the date of the Global Finals (October 2020), to have a minimum viable product, and to have yearly sales revenues.
The global organizers – the Misk Global Forum, Global Entrepreneurship Network and the Global Education and Leadership Foundation – will cover all costs related to participation in the Global Finals.  EWC Accelerates is a virtual training and mentorship program that helps entrepreneurs hone their skills and increase their chances of winning the Global Finals. The EWC online platform also offers all contestants who complete their applications access to more than $25,000 in perks from partners such as Google Cloud, Hubspot, Stripe and more.
To learn more, visit the Entrepreneurship World Cup at entrepreneurshipworldcup.com. To apply (in English), use this link https://bit.ly/31xpJrc. The Global Finals will be held in English.