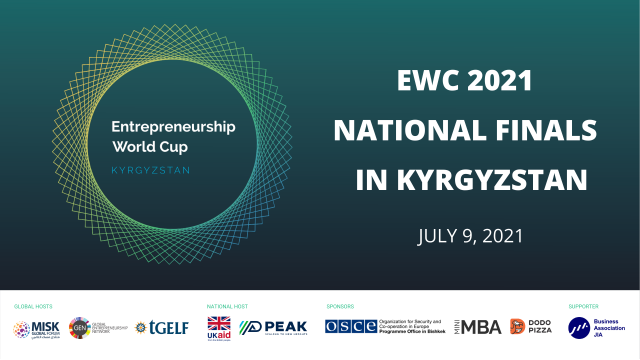 Jannat Garden Ecofarm Advances to Next Round and Will Compete for Slot in Top 100 at EWC Global Finals in November 2021.
On July 9th, the National Finals of the Entrepreneurship World Cup (EWC) 2021 were held in Kyrgyzstan for the second time in the country's history. This event aimed to identify a local startup that will have a chance to take part in the Global Finals offering US$ 1 million in cash prizes, investment opportunities and another US$75 million in in-kind support.
Aisuluu Duishebaeva, founder of the Jannat Garden Ecofarm startup, captured the first prize – in-kind grant in the amount of EUR 5,000 from OSCE Programme Office in Bishkek for the purchase of ICT and other equipment – and advances to the next round of the global competition against national winners from 200 countries.
Jannat Garden Ecofarm offers organic essential oils of lavender and rose for perfume and cosmetology, organic vegetable and fruits, and handmade products. Their mission includes creation and provision of jobs for women and youth, introducing innovations in agriculture and training farmers in the rational use of water resources.
In preparation for the EWC Global Finals, Aisuluu Duishebaeva will participate in an acceleration program which features virtual training and one-to-one mentoring targeted to their company's current stage and growth trajectory.
Jannat Garden Ecofarm emerged victorious from a pool of almost fifty contestants who applied out of which ten were selected for the national finals. The ten national finalists were:
Kupuev Online – Aselia Kupueva
LLC Cadmus – Kanykei Osmonalieva
Altay 360 Studio – Maksat Konushaliev
Jannat Garden Ecofarm – Ais Duishebaeva
Self-typing – Nazikai Asylbekova
Genesis Bionics – Adilet Toktogulov
Sigma Aero – Adilet BEGALIEV
LLC Reviro – Alina Danshina
Chung Choong – Talgat Moldaliev
Namba One – Nuraiym Azygalieva
Kupuev Online, private female-led school promoting quality online education accessible to   every school child in Kyrgyzstan, won the second prize – 50 hours of business advisory and legal services from the Entrepreneurship Support Centres established by the JIA Business Association and the OSCE Programme Office in Bishkek.
Chung Choong that developed an app for learning Chinese received the third prize – 12 hours (over three months) of one-to-one mentorship support from PEAK Enterprise and Innovation Programme in Kyrgyzstan.
The top three winners also received a free 4-months' supply of pizza from Dodo Pizza. Beyond that, all ten national finalists were awarded a free access to online mini-MBA course, funded by the OSCE Programme Office in Bishkek.
The pitches were evaluated by a panel of professional judges based on four criteria: product, people, potential and predictability.
Judges for the competition were:
Tilek Ashimov, Chairman of the Board, BT Innovations
Dastan Omuraliev, founder, Eco Product Asia LLC
Meerim Taabaldieva, designer and founder of the Meerim Taab brand, founder of Café de Paris restaurant, Ambassador of the Asher Diamonds and the Icon Development brands in Kyrgyzstan
Kalys Khasanova, National Economic Officer, OSCE Programme Office in Bishkek
Farkhad Pakyrov, Executive Director, JIA Business Association
PEAK Enterprise and Innovation Programme is the official national organizer for Kyrgyzstan. PEAK is funded by the United Kingdom's Government and aims to support startups and micro, small and medium enterprises in transforming their ideas and products into viable businesses, and in scaling their existing businesses nationally and to regional and international markets. PEAK's national partners include Organization for Security and Co-operation in Europe (OSCE) Programme Office in Bishkek, Business Association JIA, Entrepreneurship Support Centres and Dodo Pizza.
EWC is an initiative led by the Misk Global Forum, Global Entrepreneurship Network and the Global Education and Leadership Foundation with support from a collection of national and global partners, including the GSVlabs and Entrepreneurs' Organization.