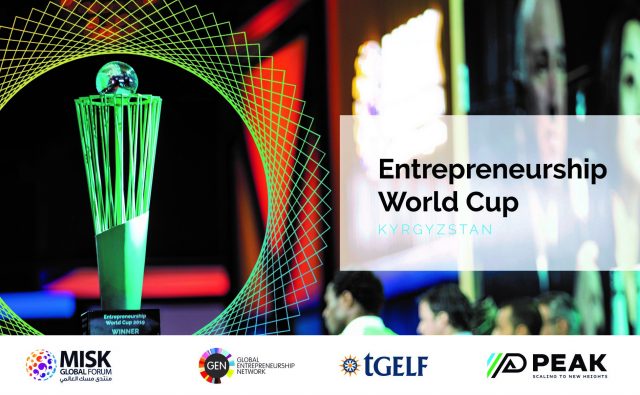 On August 17th, the National Finals of the Entrepreneurship World Cup (EWC) 2020 were held for the first time in Kyrgyzstan. This event aimed to identify a local startup that will have a chance to take part in the Global Finals offering US$ 1 million in cash prizes, investment opportunities and another US$75 million in in-kind support.  The PEAK Enterprise and Innovation Programme, funded by UK Aid, is the national organizer of the EWC 2020 in Kyrgyzstan and in Tajikistan.
The National Finals were launched with 10 solid startups selected out of 60 applicants and competing for the chance to become a national winner. They represented idea stage, early stage and growth stage companies from growing sectors – telemedicine, e-commerce, logistics, women empowerment, energy efficiency, human resource management, and education.
Finalists of the EWC in Kyrgyzstan included:
HOA24, cloud billing and property management web and mobile application suitable for managing homeowners' associations, dormitories, commercial buildings
Ooba kg, delivery service from the largest marketplaces
Fanki, project management solution for systematizing internal HR processes and workflows at small-and-medium-sized companies
AZYK.STORE, platform for online ordering of goods
QlientO, online platform for sociological and marketing studies
OptimTrade, multi-functional ecommerce platform with SaaS monthly/yearly sales model that unites manufacturers/suppliers, retailers and consumers
EVA (Empowerment Values Added), personal health coach application based on tracking and utilizing the data around energy flow cycles
ATR Group, mobile app connecting patients to doctors for remote access and initial diagnosis.
GEO, provider of affordable, clean and no effort geothermal heating service
ALFA Business School, new format business school focused on hands-on learning experience
The entrepreneurs virtually pitched their startups in front of a panel of judges that consisted of experts from different fields such as high tech, banking, entrepreneurship and innovation. The judges evaluated the applications and pitches for product exclusivity, market potential, scalability of the business model, team's talent and experience.
Judges for the competition were:
Nazira Beishenalieva, Chairwoman of the Board of Directors, Bank of Asia
Myrza Orumbayev, Founder and General Director, Toiboss
Chubak Temirov, Deputy Director of the High Technologies Park of the Kyrgyz Republic
Zhoodarbek Zhumabaev, Director of the State Patent Technical Library under the State Service of Intellectual Property and Innovation under the Government of the Kyrgyz Republic,
Kubanychbek Sagaliev, Chairman of the Financial Club under the JIA Business Association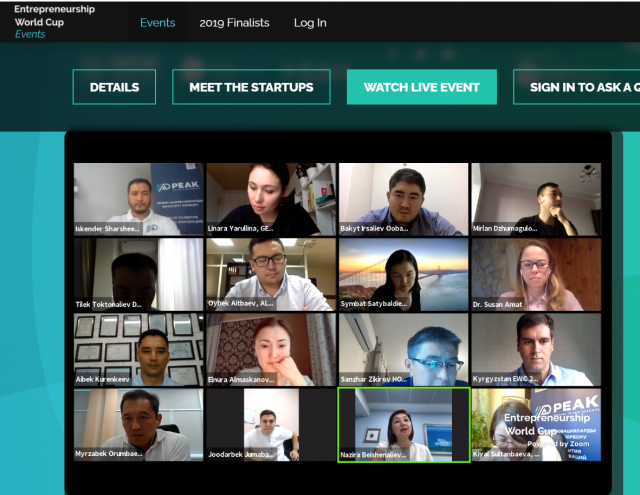 OptimTrade, an early-stage company, emerged as the national winner thanks to its innovative mobile platform that simplifies POS (point of sale), inventory management and procurement needs for small grocery shops and other vendors. Fanki, offering a project management solution for systematizing internal HR processes and workflows of small and medium-sized companies, came in 2nd place. Ooba.kg, a search and delivery service from large marketplaces, was in 3rd place.  Ooba.kg also scored the highest among growth stage companies while Eva (Empowerment Values Added), which develops a personal health coach application, received the highest score among idea stage start-ups.
"This year, we are thrilled to see that PEAK has joined our movement and put Kyrgyzstan on the EWC map. This is really an opportunity for all teams to think through what your future is, how you can support your country, and how you bring those relationships and partnerships from all over the world back to Kyrgyzstan", said Susan Amat, representative of the Global Entrepreneurship Network, one of the global organizers of the EWC along with the Misk Global Forum and The Global Education and Leadership Foundation.
During August – September, national winners from 200 participating countries that advanced to next round will experience a combination of advanced virtual training sessions and focused one-to-one mentorship. This will help all participants to launch, strengthen and scale their enterprises as well as get prepared for the Global Finals that will be held in October or November in Riyadh, Saudi Arabia, where the top 100 global finalists will pitch on stage.
To learn more, visit the Entrepreneurship World Cup at entrepreneurshipworldcup.com.