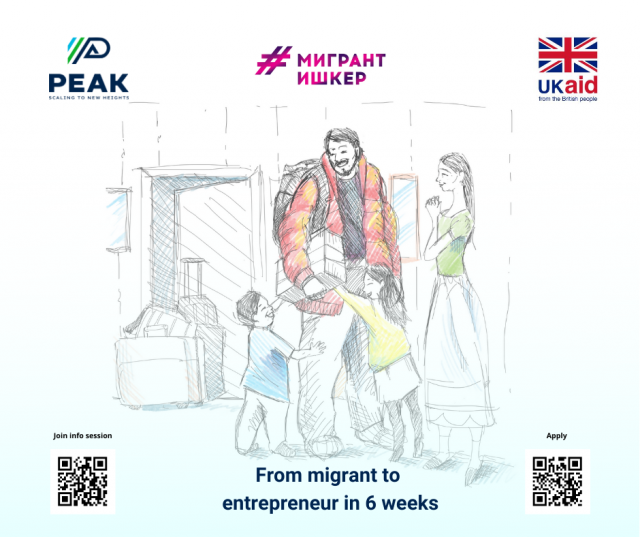 A life-changing opportunity for returning migrants aspiring to open their own business!
If you are a returning migrant, PEAK Bishkek invites you to apply for the Migrant Ishker programme, a free six-week virtual programme where you will learn how to make the first steps to transform your business idea to an established business.
You will specifically learn:
How to develop your idea into a product/service solution that solves a problem in the market
How to create demand and sell your product or service using offline and online marketing and sales tools
How to manage efficiently your available funds
How to pitch your product / business to partners and investors
The programme will be delivered through workshops, masterclasses, and group consultations by successful and experienced trainers and mentors.
Our application eligibility criteria are:
Founder is a citizen of the Kyrgyz Republic
founder is a working migrant that returned to the Kyrgyz Republic during the last 2 years (i.e. after September 2018)
Founder is committed to devoting time to the programme and aspires to establish a business and create jobs in the future
Founder has good knowledge of the Russian language (as the programme will be mainly delivered in Russian)
Founder has access to a computer with Internet connection (not less than 20 Mb/sec)
Founder's age is 18+
Any business experience, availability of a legal entity or a patent of a voluntary or mandatory nature, and basic skills in MS Office (Word, Excel, PowerPoint) would be viewed favorably.
To apply, fill in the application form by 17:00 on September 11, 2020.
If you have questions or need more information, join our info sessions at 13:00 either on Aug 27th or Sep 2nd using the link.
The Migrant Ishker programme was originally developed and piloted by the German Agency for International Cooperation (GIZ) "Skills for Reintegration" project.