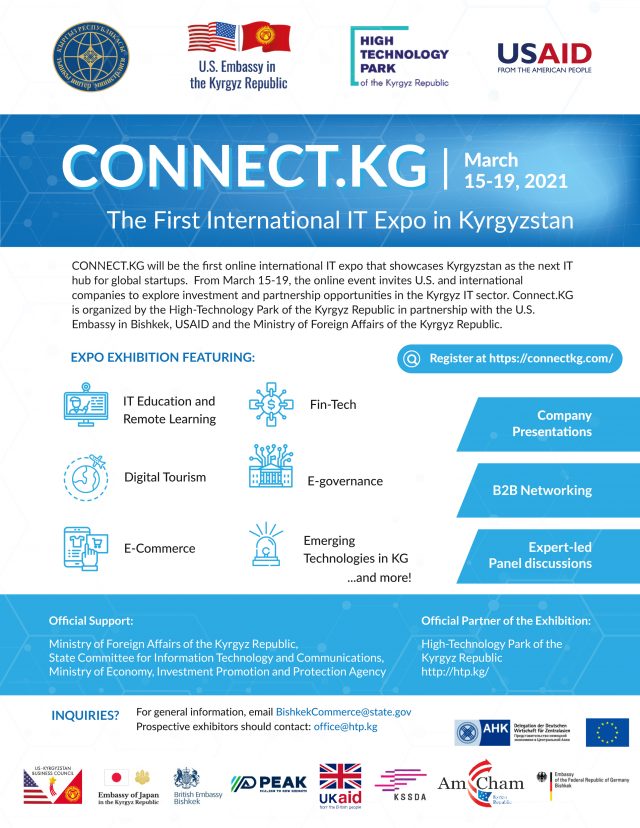 PEAK Kyrgyzstan invites you to the first international IT EXPO CONNECT.KG in Kyrgyzstan!
CONNECT.KG is an online event that gathers U.S. and international companies to explore investment and partnership opportunities in the Kyrgyz IT sector. The event features over 40 local IT companies!
One of the speakers will be PEAK Kyrgyzstan's special guest Mr. Ouali Benmeziane (USA), founder of WebCongress listed by Linkedln in the TOP-10 SMM companies.
Register for the event https://connectkg.com.
The IT Expo is organized by the High Technology Park of the Kyrgyz Republic with the support of the U.S. Embassy in the Kyrgyz Republic, the U.S. Agency for International Development (USAID), the Ministry of Foreign Affairs of the Kyrgyz Republic and in partnership with the United Kingdom Embassy in the Kyrgyz Republic, PEAK Enterprise and Innovation Programme in Kyrgyzstan and a number of diplomatic missions.