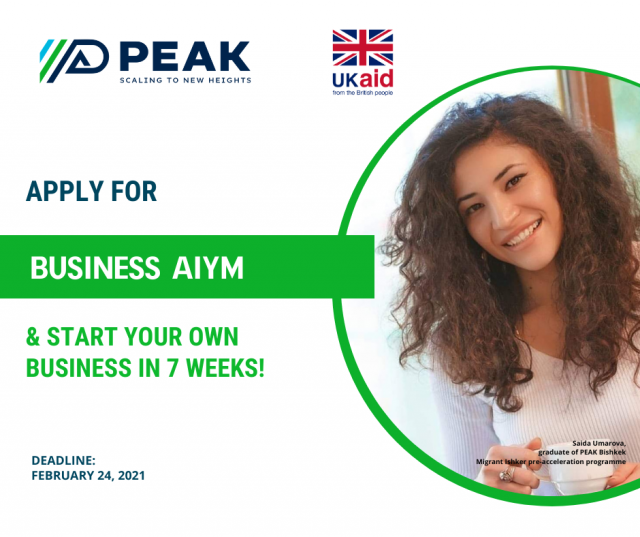 Become a businesswoman with the Business Aiym programme!
If you are an aspiring businesswoman, PEAK Bishkek Business Innovation Centre invites you to apply for the Business Aiym programme. The programme will empower women of Kyrgyzstan in developing entrepreneurial ideas or prototypes into viable businesses. Don't miss your chance to start your own business within seven weeks!
You will learn:
how to validate your idea/ prototype/ MVP
how to find your market niche
how to promote your product/ service
how to meet legal requirements to businesses
how to pitch your product/service to partners and investors
The Business Aiym pre-acceleration programme consists of virtual/hybrid training workshops, seminars, business consultations and mentorship, including by experienced and successful female entrepreneurs.
To apply, you should meet the following criteria:
Citizen of the Kyrgyz Republic
Good knowledge of the Russian language (as the programme will be delivered in Russian)
Applicant has a feasible business idea (availability of a product prototype is an advantage)
Applicant has conducted market research with a clear vision of the target audience for future business
Applicant has a clear intention to register the company in Kyrgyzstan in 2021
Applicant has skills of using Zoom, Power Point and Excel (MS Office)
Applicant has access to stable Internet connection (not less than 20 Mb/sec) and necessary equipment
To apply, please fill in the application form by 5 pm on February 24, 2021 at https://forms.gle/49aFnmDGtrrJwnjx9.
The Business Aiym programme is sector-agnostic, however preference will be given to businesses/business ideas in the following industries:
Education
Textile & Ready-made Garments & accessories
Tourism, Leisure & Entertainment
Hotels, Restaurants & Cafes (HoReCa)
Food processing & Manufacturing of Food Products
Small scale production
Wholesale & Distribution
Services
Retail and wholesale
E-commerce
Healthcare
Information and Communications Technology (ICT)
Financial services
Other sectors with prospects for growth in the current socioeconomic situation (COVID-19)
If you have questions or need more information, please join our info sessions at 3 pm on February 10 and 17, 2021 using this link https://forms.gle/HAGdoMYwkhWahFwu8.
The Business Aiym pre-acceleration programme is implemented by PEAK Bishkek Business Innovation Centre and funded by UK aid from the United Kingdom Government.
? +996 500 003757 (calls are accepted before 6 pm)
? +996 555 223757 (WhatsApp)