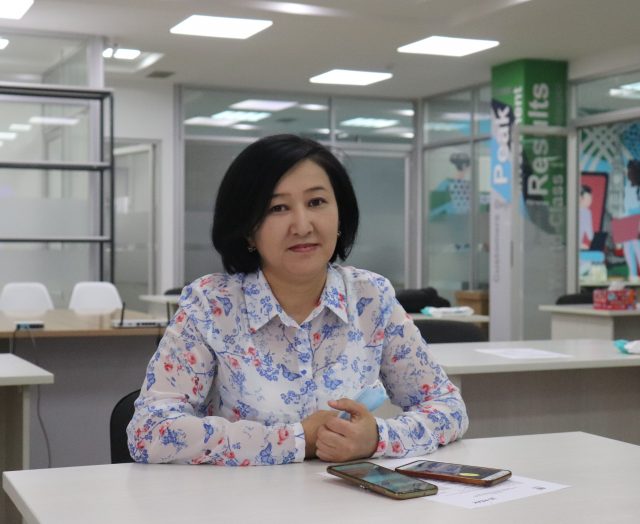 "PEAK's acceleration programme provided support in improving every aspect of my business", says Nazira Zhumabekova, founder of 5+ Education Centre.
Nazira Zhumabekova championed the Robooky Engineering and Robotics School's franchise in Kyrgyzstan by establishing its official branch office in 2021.
The Robooky Engineering and Robotics School is one of the largest robotics and engineering education platforms in the USA, Russia, CIS and many other countries. The courses help schoolchildren navigate their future professions and develop their entrepreneurial skills and engineering thinking.
Nazira Zhumabekova obtained her master's degree in physics from Gazi University in Turkey in 2007, and then travelled to London to continue learning the English language. Impressed by the professional teachers in England and Turkey, Nazira revived her long-held dream of being a teacher. In 2011, upon her return to Kyrgyzstan, Nazira explored the local market and in 2016 launched her own business – the 5+ Education Centre. Over the five years, her education business grew into four additional branches with over 5,000 schoolchildren benefiting from the centre's courses in various fields.
Nazira discovered the Robooky in 2018 and realized she had finally found what she had been looking for. Through traditional teaching methods, complex formulas were difficult for schoolchildren to remember. With Robooky, formulas and principles were much clearer for children as they worked on their creations. Nazira's education centre started offering a robotics course based on the Robooky approach. In two years, Nazira explored demand on the local market and concluded that such courses would be of high demand not only in the capital city but also throughout the country. In order to implement this idea, she needed a more fundamental knowledge on doing business.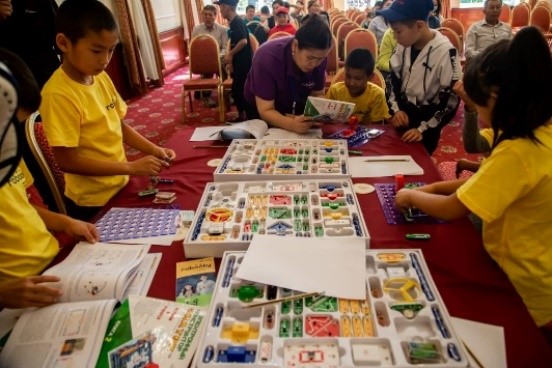 In late 2020, Nazira applied for and successfully graduated from the PEAK Bishkek's Grow Your Business acceleration programme. The programme helped strengthen her business knowledge and prioritize the business objectives. Additionally, the programme coaches provided her with vital recommendations on how to scale a business. The knowledge gained was a great impetus to attract investment and bring the Robooky international franchise to the Kyrgyz market.
Successfully brought to Kyrgyzstan, the Robooky course offers 15 modules with its own methodology. The highest demand among children is for modules on aerospace engineering, robotics and electrical engineering. In addition, Nazira and her team promote the Robooky course in software engineering, which targets children between the ages of 5 and 16.
Adhering to the idea of having a nationwide geographical coverage, Nazira opened her first Robooky branch office in   Naryn. This was made possible through her collaboration with Cholpon Shabdyraeva, founder of the ZA+ Tutoring Centre in Naryn city, also graduate of the PEAK Bishkek's Grow Your Business acceleration programme. Cholpon will promote the Robooky franchise in the Naryn oblast.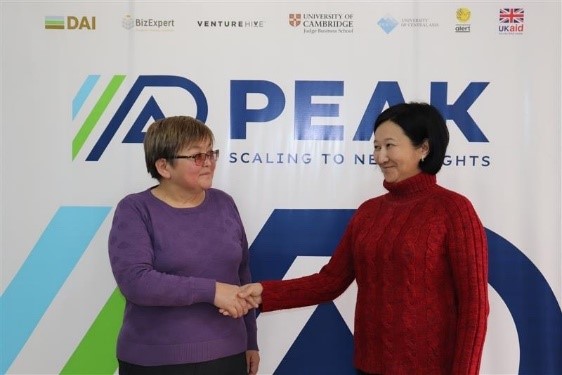 "Such courses can stimulate children's interest, and better prepare them for higher education. By excelling in robotics, engineering and computer programming, the growing generation of Naryn oblast will have a prospective source of income and won't need to migrate elsewhere to do it", says Cholpon Shabdyraeva, winner of the PEAK's Woman Entrepreneur of the Year Award.
This cooperation between the two active female PEAK graduates contributes to job creation, sales growth and business diversification. Nazira and Cholpon are intending to mitigate several social challenges in the region.  They believe these courses will help create a generation of engineering and programming talent in Kyrgyzstan.
The next Robooky branch is planned to open in the Toktogul district, Djalal-Abad oblast. Nazira Zhumabekova and her team are also aiming to organize a series of Robooky presentations in other cities and districts of the country.
About PEAK
PEAK Bishkek Business Innovation Centre was established under the PEAK Enterprise and Innovation Programme funded by UK aid from the UK Government. It offers startups, micro, small and medium enterprises representing diverse economic sectors nationwide the unique opportunities for transforming their ideas and products into viable businesses or scaling their existing businesses nationally and to regional and international markets. By April 2023, PEAK programme plans to accelerate about 400 startups and MSMEs in Kyrgyzstan, thereby contributing to the retention and creation of local jobs.