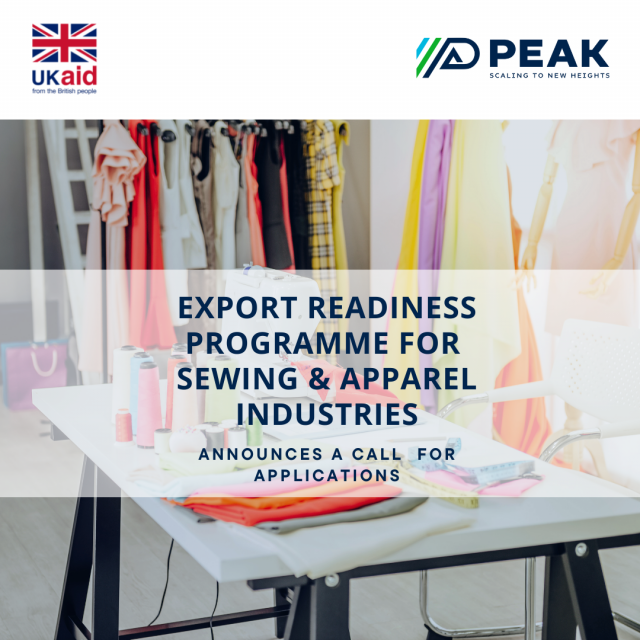 Learn how to export with PEAK and navigate the world in the field of sewing!
PEAK Osh Business Innovation Centre invites general managers and founders of sewing and apparel industries located in Kyrgyzstan to participate in the program "Export Readiness Programme for Sewing and Apparel Industries". Applications for the programme are accepted from micro, small and medium-sized businesses operating in Osh, Jalalabad and Batken oblasts (priority is given to the enterprises of Osh city and Osh oblast).
The program is aimed at increasing the knowledge of export opportunities, understanding the rules and export requirements of international markets, and developing the export potential of garment companies by meeting international requirements.
The programme is funded by UK aid of the UK Government and requires no fee.
It will consist of offline and online interactive workshops, trainings, individualised coaching, and guest lectures.
In seven weeks, you will improve your knowledge on:
Marketing and Sales;
Digital Marketing and E-commerce;
Financial Management;
Quality Management & Operations;
Human Resources & Team Management;
Export Processes & Requirements
Applicants must meet the following requirements to apply to the programme:
Enterprise is operating in the apparel (sewing) sector;
Enterprise has been operating and generating revenues for at least 6 months (not more than 30 million Kyrgyz Soms annually) and is profitable;
Enterprise has less than 50 employees (full and part-time);
Enterprise is registered legally (patent, individual entrepreneur or LLC);
Currently exporting or committed to start exporting within the next 6 months;
Participants are required to have a device (compute, laptop) with good Internet connection;
Fluency in Kyrgyz language (native of proficient).
Readiness to devote nine hours per week to the programme.
How to Apply?
Please follow this link to fill in the application form: https://forms.gle/DNe7e5w8eqfLhtTD6.
Applications are welcome before 5 pm, February 18, 2022.
If you have questions or need more information, please register for one of our info sessions:
February 7th, 2022 at 4PM using the following link: https://peak-mel.com/bic/event/participants/9fcc3f39-5135-4096-8240-db4ca6ddcbd5/create
February 14th, 2022 at 4PM using the following link: https://peak-mel.com/bic/event/participants/10144c29-070d-4f91-9fcc-66cf9d491680/create.