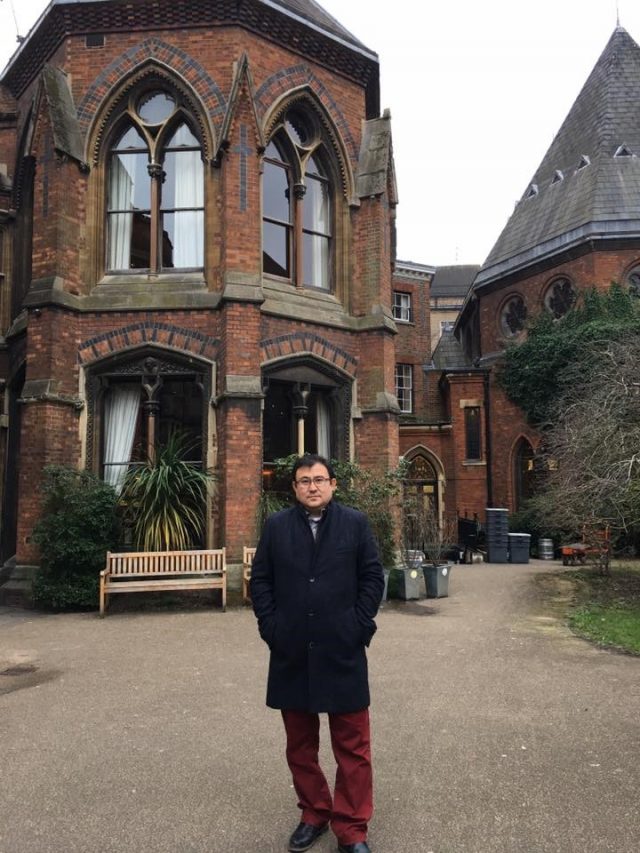 Bogdan Tagaev, founder of SCARGOS
Brave and business-minded Bogdan Tagaev with Kyrgyz roots and a Ukrainian name was born in Kharkov, Ukraine. He inherited his engineering and technical skills from his parents, who are certified specialists in radio-electronics and engineering technology. In 1998, immediately upon receiving bachelor's degree in Business Administration and Communication Engineering from the American University in Kyrgyzstan and Kyrgyz Technical University, he was offered a job at the representative office of LM Ericsson, a Swedish multinational network and telecommunication company headquartered in Stockholm. At that time, LM Ericsson was installing hubs for its digital communications in Kyrgyzstan. Bogdan Tagaev started his career from a junior staff member and was very soon promoted to a managerial position helping to reach LM Ericsson's targets in the Kyrgyz market. While working for LM Ericsson, Bogdan often travelled across Europe and learned a lot from his colleagues in Sweden, England and Croatia.
Having gained significant international experience in telecommunications, Bogdan and his partners decided to start their own company "Sapatcom". Bogdan introduced to local market an innovative CDMA-450 technology, a groundbreaking mobile technology that revolutionized the world of cellular communications in the 2000s. Sapatcom solved an important problem – deficit of landlines for the residents of Bishkek city. At the same time, Bogdan Tagaev was working as a consultant for organizations based in London and Bishkek.
In 2010, Bogdan and his team launched their next project that was related to financial technology. Their "Epay" software engineering company established partnerships with fifteen major banks of Kyrgyzstan and carried out payment processing for them. The company aimed to develop a consolidated electronic wallet for Kyrgyzstan's population.
In 2019 Bogdan Tagaev and his associates developed a startup project called "SCARGOS" – an online platform and hub for transportation, connecting shippers, carriers and dispatchers in a more efficient and transparent way. Bogdan found logistics was a daunting challenge, and the startup needed a professional support.
In 2020 Bogdan applied for the PEAK Bishkek Business Innovation Centre's Tech Acceleration programme. The accelerator helped him strengthen his business knowledge through consultations with PEAK's international experts from the United States. On the demo day of the Tech Acceleration programme, Bogdan's project found an investor.
"PEAK's programme gave me a drastic improvement of my pitching skills that I continue to use to attract investment", says Bogdan.
In total, from the MVP stage till launch of the final product Bogdan Tagaev attracted investment of around US$ 200,000.
SCARGOS recently integrated its platform with Telegram, and now services are offered through the mobile application. Additionally, SCARGOS signed a contract with an insurance company in Russia.
"Due to Covid-19 related restrictions, demand for logistics services has increased significantly, and we are now working on scaling our business and looking for additional investment," added Bogdan Tagaev.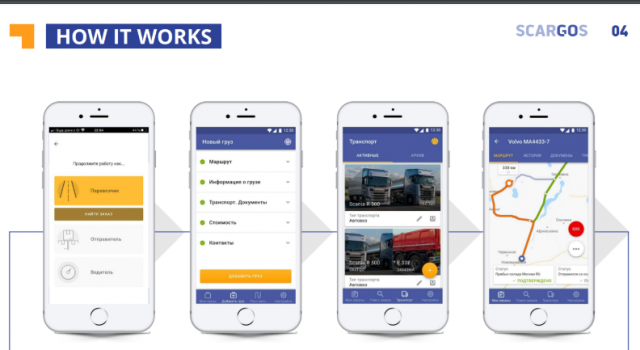 SCARGOS interface shows how it works in a mobile app
Today, the SCARGOS project has about 5,000 registered, and 500 regular users of the platform. Most of them are clients from Russia and Kazakhstan. The platform is also expanding its user market and has already partnered with a large wholesale market "Food City" in Russia.
About PEAK
PEAK Bishkek Business Innovation Centre was established under the PEAK Enterprise and Innovation Programme funded by UK aid from the UK Government. It offers startups, micro, small and medium enterprises representing diverse economic sectors nationwide the unique opportunities for transforming their ideas and products into viable businesses or scaling their existing businesses nationally and to regional and international markets. By April 2023, PEAK programme plans to accelerate about 400 startups and MSMEs in Kyrgyzstan, thereby contributing to the retention and creation of local jobs.