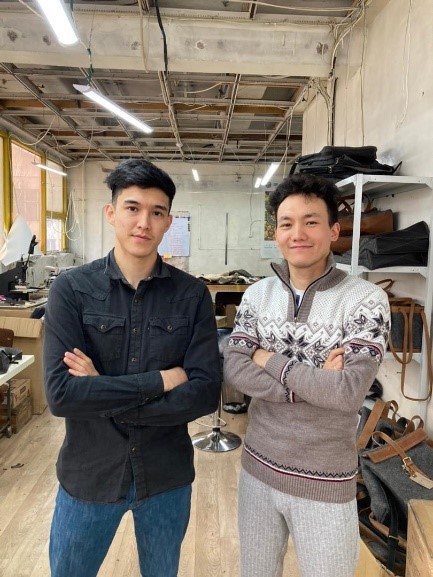 Ulan Tashtanbekov, Tengri founder (left), and Daulet Babaev, director of the workshop (right), in their new premise in the city center
Ulan Tashtanbekov, a young and talented entrepreneur, made a choice to enter the handicrafts industry at a young age. His company, Tengri Workshop, produces a variety of handmade leather and felt products. He founded it in 2014 when after four years at university he decided to drop his law degree and used the money for his final year's tuition fee to buy materials and start his own business.
His passion for craftsmanship started in childhood. As a young child, Ulan carefully watched his grandfather in his workshop located in Kara-Zhygach town, Chui province. Ulan's grandfather loved to make different kinds of crafts from wood, iron, and leather. It was his grandfather who laid the creative groundwork for a future designer businessman.
In 2014 Ulan received his first order – a women's hand-embroidered leather purse worth 700 KGS. Satisfied customers and positive feedback contributed to strong product promotion. From individual retail orders, the business grew to batch orders of up to 50 pieces. In 2017 a foreign company ordered leather organizers for its employees. Unfortunately, the corporate customer was unsatisfied. It was the first serious challenge for the business. Ulan realized that it was difficult to perform a large amount of work alone. In the same year, Ulan recruited a small team and received a bank loan in the amount of 300,000 KGS to purchase the necessary machineries to process leather in large quantities. In December 2019, the company successfully fulfilled a large order of 1,500 leather accessories for a mobile operator in Kyrgyzstan.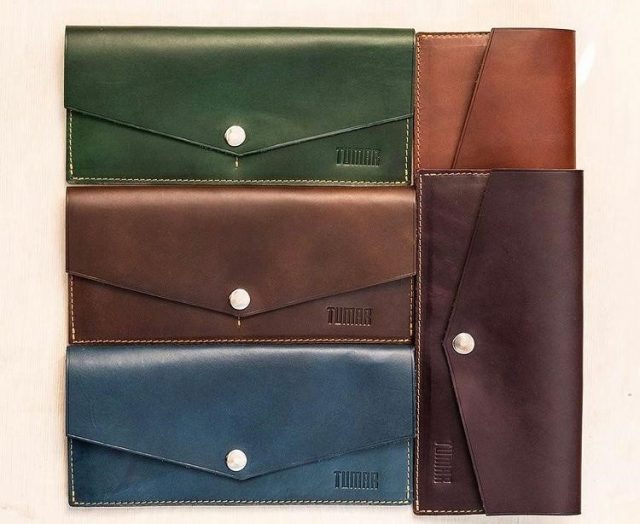 Leather wallets produced by Tengri for the locally popular Tumar brand
In the summer of 2020, Tengri participated in the 'Grow Your Business' Acceleration Programme supported by UK Government through the PEAK Bishkek Business Innovation Centre in partnership with the University of Central Asia's School of Professional and Continuing Education. "PEAK's programme helped us to improve our skills in financial literacy and organize the financial records of our company. It was also a great opportunity to interact with PEAK's coaches who helped us to avoid future probable mistakes", shared Daulet Babaev, director of the workshop and who represented Tengri in the Grow Your Business programme. After the programme, Tengri decided to abandon the idea of setting up an offline retail store and switched from retail to wholesale merchandising. The new business strategy perfectly met Ulan's and Daulet's expectations and Tengri is now planning to expand to international markets. The company has started to design a product catalogue and plans to publish it in international marketplaces such as EC21 Global (B2B Marketplace), Tiu.ru (Russian marketplace), All.Biz Global Trade and Alibaba.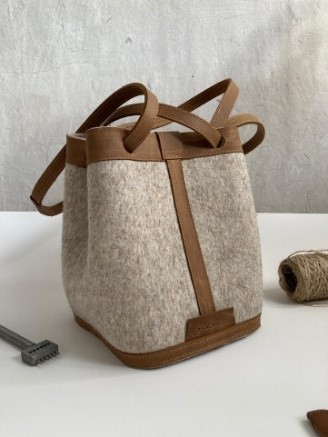 Bag made of leather and felt from Tengri collection for the Austrian online store
In November 2020, Tengri received a lucrative proposal from a European company. An offline store in Austria ordered different types of accessories, such as bags, belts, and purses, made of leather and felt. The samples were approved by the client and Tengri successfully fulfilled this large order, the products of which will be placed on the Austrian retailer's new online store, serving the whole European market.
During this time also, Tengri hired two additional employees and moved its workshop to a big and new space in the city center.