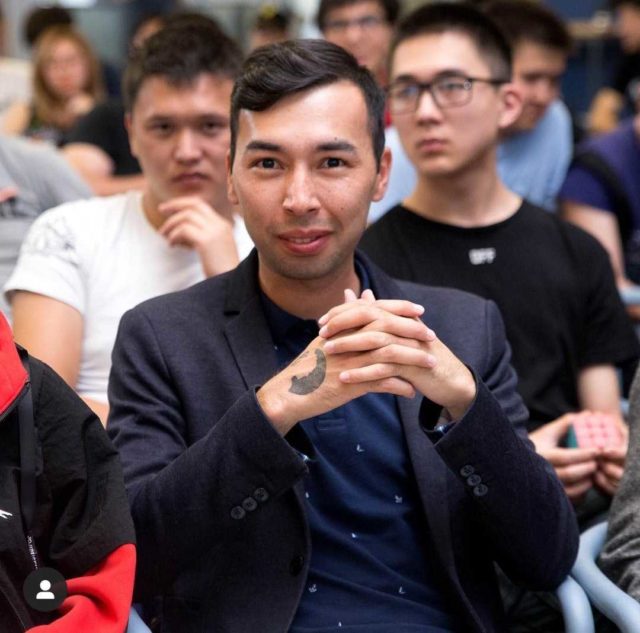 Mirlan Dzhumagulov, co-founder of Fanki startup, General Director of Irokez LLC
The Entrepreneurship World Cup (EWC), the world's largest startup competition, covers 200 countries and elevates entrepreneurs at all levels – from idea stage through scale-up. The competition offers valuable prizes for start-ups: a share in the US$1 million in cash prize, US$75 million in in-kind support, access to a global platform with virtual training resources, targeted mentoring, and potential investment.
Kyrgyzstan, a Central Asian country with a flourishing start-up environment, had not participated in this global competition until PEAK Enterprise and Innovation Programme, funded by UK aid and implemented by DAI, put the country on the EWC map.
In August 2020, Fanki, a start-up offering a project management solution for systematizing internal HR processes and workflows of small and medium-sized companies, was announced as one of the two winners at the first-in-history EWC National Finals in Kyrgyzstan.
Advancing to the next round, Fanki experienced a combination of virtual training sessions and focused one-to-one mentorship and was shortlisted to the "EWC 100" top startups to compete in the EWC Global Finals.
"Small and medium companies' HR managers usually spend up to 100 working days per year addressing HR-related daily inquiries. With Fanki, this will take up to twenty working days per year", describes Mirlan Dzhumagulov, co-founder of Fanki.
The progressive start-up was highly scored by the EWC global panel of judges, and succeeded in advancing to the semi-finals where 25 finalists were selected from around 175,000 entrants from 200 countries and pitched on a virtual stage for a share of prizes worth millions of dollars.
"Fanki's progress empowered Kyrgyzstani startups to dare and aspire to globally share ideas that can make the world a better place.", says Kiyal Sultanbaeva, representative of the EWC national organizer in Kyrgyzstan.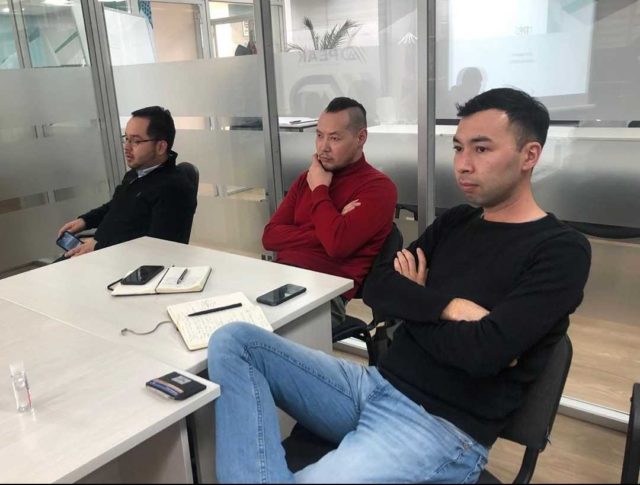 Mirlan Dzhumagulov (right) and Arsen Abdrakhmanov (next), co-founders of Fanki, at the PEAK's Tech Accelerator programme
Fanki founders – Mirlan Dhumagulov and Arsen Abdrakhmanov – met in 2005 when they entered university, and in 2013 jointly established Irokez LLC, a graphic design studio. In 2018, they faced cumbersome HR processes when their staff expanded from 3 to 30 people. In the following year, they designed Fanki, an IT solution that helps small and medium companies onboard new staff, engage and collaborate with employees, and organize and manage a company's HR processes more easily and efficiently.  However, Mirlan and Arsen prioritized their second start-up Monki, an IT solution for banks to track the loan debts, with which they applied for the Tech Accelerator programme of the PEAK Bishkek business innovation centre in January 2020. During the course of the acceleration programme, the team realized that Monki has a much smaller market size than Fanki does. The team, therefore, revised their priorities and, with the support of PEAK's mentors, enhanced their pitch deck and marketing approach to Fanki as well as their skills to engage with investors.
"We wouldn't have applied for the EWC without experiencing the Tech Accelerator", says Mirlan. "The Tech Accelerator helped us improve our approach to Fanki. We revised our market penetration strategy and focused on Russia as a key market and registered a branch office there", says Mirlan. "If we did not join the Tech Accelerator, we would have achieved these results over a longer period of time and maybe with lots more mistakes", adds Arsen.
Participation in the EWC granted Fanki a package of in-kind services valued at US$850,000, access to free training materials from experienced mentors, US$25,000 worth of perks from dozens of partners including Zoom, Amazon Web Services and Shopify, and recognition in Kyrgyzstan and worldwide, which increased the investment attractiveness of this early stage start-up company.
To note, Fanki also benefitted from another opportunity offered by PEAK Enterprise and Innovation Programme. Along with two other PEAK-supported startups in Kyrgyzstan, Fanki was enrolled to the Ignite programme – an intensive one-week programme for aspiring entrepreneurs to prepare their business ideas or technological inventions for commercialisation. Ignite is run by the Cambridge Judge Business School, PEAK's consortium partner.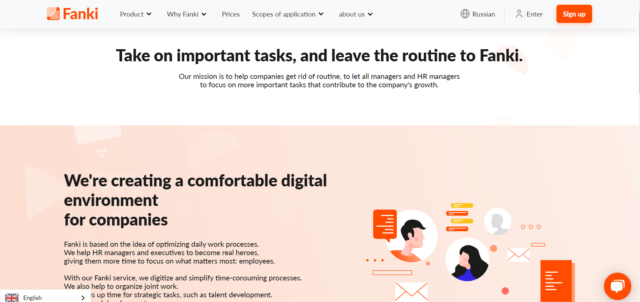 Screenshot of the Fanki's platform at www.fankihr.com
Currently, Fanki is starting its first sales and looking for funding. Demand for the product will be steadily growing as the majority of MSMEs, and due to the Covid-19 situation, realize the need to automate and digitalize their business processes. In the near term, Fanki plans to increase its staff's salaries and hire additional staff members in Kyrgyzstan for the remote support of branch offices in Russia and Kazakhstan. In the longer term, the number of staff will likely be increased four times, to reach 40 employees.
About PEAK
PEAK Enterprise and Innovation Programme, through its business innovation centres offers startups, micro, small and medium enterprises representing diverse economic sectors nationwide the unique opportunities for transforming their ideas and products into viable businesses or scaling their existing businesses nationally and to regional and international markets. PEAK plans to accelerate more than 400 startups and MSMEs in Kyrgyzstan, thereby contributing to the retention and creation of 2,500 local jobs.