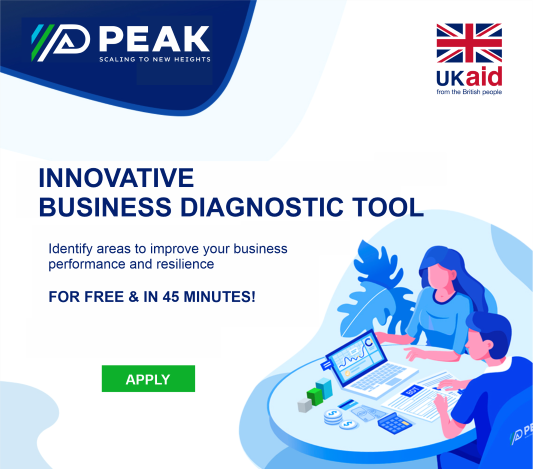 Get a FREE diagnostic of your business and unlock your growth potential with subsidised business advisory services!
PEAK Enterprise and Innovation Programme (PEAK), funded by the UK aid of the United Kingdom's Government, offers a unique opportunity for micro, small and medium enterprises (MSMEs) of Kyrgyzstan to improve their businesses. Within 45 minutes, highly qualified and PEAK-certified business advisory service providers (BASPs) will help you identify areas to improve your business performance and resilience with the use of PEAK's innovative and practical Business Diagnostic tool.  Following the implementation of the Business Diagnostic assessment you will have the chance to apply for a PEAK subsidy for business advisory services that address the findings of the Diagnostic.
What Does the Diagnostic Tool Provide?
Rapid assessment of business capacity and competitiveness against seven key pillars (Operations, Demand, Business Management, Financials, Safety, Supply Chain, and Workforce)
A quantitative and qualitative report on your business performance against industry standards and competitors
Recommendations for business development and improving performance.
What Are the Benefits for You?
Understanding your business resilience and capacity post COVID-19
Enhancement of your business model and development to international standards
Increasing your business network and market access
An opportunity to apply for a subsidy covering up to 85% of the cost of Business Advisory Services through PEAK for a business improvement project that aims to retain or create new jobs, introduce innovation and increase revenue for your business.
How Does it Work?
The diagnostic is facilitated by local individual BASPs following a streamlined process:
BASPs engage with interested MSMEs
MSMEs apply for a free business diagnostic
Upon acceptance by PEAK, MSMEs complete an online and interactive interview / survey to identify business resilience and competitiveness
BASPs generate and provide a quantitative analytics report to MSMEs, along with qualitative insights and a recommendation pack
BASPs conduct a constructive discussion with MSMEs on Diagnostic's results and insights and agree on the next steps moving forward, including the opportunity to apply for a Business Advisory Services subsidy through PEAK
Who Can Apply?
To apply, MSMEs should meet the following requirements:
is registered in Kyrgyzstan
is a majority-owned (i.e. >51%) Kyrgyz enterprise
meets the local legal definition of a Small or Medium enterprise[1]
has been operating a business or income-generating activity for at least 12 months;
its primary business activity is in one of the following priority sectors: agribusiness / food processing, ICT, healthcare and well-being, education, textiles and garments, financial services, retail and wholesale trade, services, warehousing/ transportation/ logistics, small-scale production, or HoReCa;
leadership, openness to change and willingness to share information with PEAK;
is a private business not affiliated with public authorities or government (no State ownership);
Enterprise's activities are not related to primary agriculture or alcohol, tobacco, gambling, or cause environmental harm.
'Small' includes an organization or an individual entrepreneur whose annual revenue does not exceed VAT registration threshold (VAT in KG from 8 million KGS/12 months), and houses up to 15 employees; while 'medium' entails organizations and/or individual entrepreneur whose annual revenue is equal to or exceeds registration VAT threshold, but not more than 30.0 million KGS annual revenue and has 16 to 50 employees.
Cooperatives and non-profit organizations involved in economic activity as well as non-registered enterprises that are planning to get a registration may also apply.
Priority is granted to disadvantaged businesses that meet at least one of the following criteria:
The business is majority owned (>51%) and managed day-to-day by an individual(s) from a disadvantaged group: women, youth (18-28 years old), returnee migrants (within the last two years), ethnic minorities.
The business employs or supports in work integration of workers from disadvantaged groups, or provides income-generating opportunities for entrepreneurs from these groups.
The business targets under-served / bottom of the pyramid customers and/or includes 'disadvantaged' businesses in its supply chains.
How to Apply?
Follow this link https://peak.kg/en/application-for-a-free-business-diagnostic/ to complete and submit your application. Applications will be evaluated on a "first-come first-serve" basis.
For more detailed information about steps you should take, please visit https://peak.kg/en/free-business-diagnostic-services-amp-subsidy/.
Regular updates are available on www.peak.kg and social media.