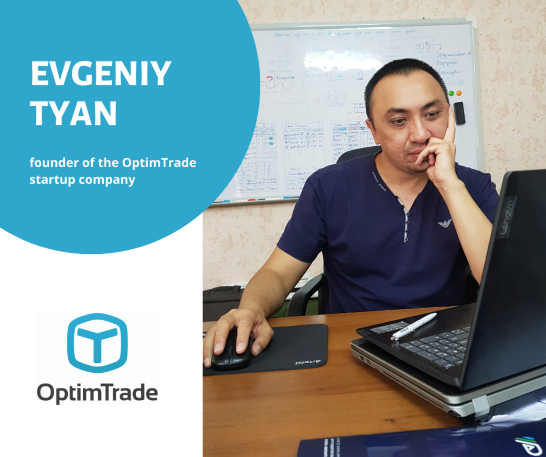 Kyrgyzstan is one of the Central Asian countries that are heading towards digitalization of processes, including in the business sector. Currently, more than 6,000 small groceries in Bishkek, the capital city, maintain hand-written records of their stocks and sales. Their communication with suppliers lacks transparency and heavily relies on the human factor. These circumstances present inconveniences for both groceries and suppliers. Grocery stores often learn too late that some of their goods are out-of-stock, have to make urgent orders via phone or through physical meetings with sales representatives, or have to give cash to a supplier's representative without any guarantee that he/she will deliver the cash in full to the supplier. In addition, the suppliers cannot track sales at their buyers' stores in real-time mode. They face an 80% turnover among the sales representatives and spend quite a lot of time regularly training new ones. Lastly, they lack accurate financial transactions, having to rely on honesty of representatives.
The solution to this problem is offered by Evgeniy Tyan, founder of OptimTrade company, who is well aware of these challenges and shortcomings due to his vast experience in the HORECA (Hotels, Restaurants, Cafes) sector. Evgeniy was a manager of his own restaurant, and a consultant and trainer on opening cafes. Evgeniy knew that it is quite challenging for new cafes to first find suppliers and then maintain effective day-to-day communications due to the same challenges the groceries meet. In 2011, he launched a page on Facebook that united 300 suppliers of Kyrgyzstan. The page was of high demand, but Evgeniy was realizing that a more sophisticated platform should be created to address the existing challenges. During 2017-2018, the IT specialists hired by Evgeniy did not manage to develop a platform, and so it was only in late 2018 that Evgeniy could find the team members he dreamt of.
Evgeniy and his team developed a mobile app that streamlines communication between producers, sales points and end users and brings transparency in commodity turnover and stock management. For small grocery stores, the app will automate stock and sales management, enabling them to keep records and make orders online, get timely system notifications about low stock items, price changes and discount campaigns of suppliers. Producers/suppliers will be able to track, in real-time, the sales of certain items at different sales points and make timely supplies where needed or launch marketing campaigns for locations where the sales are low. Additionally, end users will be able to use the search engine of the app to check a certain product's availability and price at various stores.
"After participating in PEAK's Tech Accelerator programme, I felt myself confident to present my start-up project in global startup competitions."
This innovative mobile app, which has no analogues in Kyrgyzstan and other post-Soviet countries, was acknowledged by the Ministry of Economy in Kyrgyzstan as a breakthrough start-up supporting the government's strategy on the country's digitalization agenda. To move from idea stage to implementation, the start-up needed knowledge and expert advice that would help attract investment.
In January 2020, Evgeniy applied to the Tech Accelerator of the PEAK Bishkek Business Innovation Centre. The Tech Accelerator was a free-of-charge acceleration programme funded by the Government of the United Kingdom that is aimed to support early stage tech start-ups in developing robust products and transforming a start-up into a saleable business. Over the three months, Evgeniy enhanced his product with the support of experienced trainers and mentors, including experts from Silicon Valley.
"My start-up project was like a child that had been crawling and started taking first steps after joining the PEAK", says Evgeniy, also a father of three children and for whom kids' first steps are an exciting experience. "I am especially thankful to PEAK for improving my pitching skills, as I did not have enough knowledge to effectively present my project to investors and potential partners". Aiming to first enter the national market and then expand to neighbouring countries, Evgeniy – with the support of mentors – revised his potential markets by adding countries with similar situation in South America and South East Asia. Strong knowledge was gained on marketing, which helped Evgeniy find a more time- and resource-efficient approach to the promotion of his product among groceries. All these improvements resulted in the project's increased investment attractiveness.
Shortly after, in August 2020, Evgeniy applied for the Entrepreneurship World Cup (EWC) 2020 that took place in Kyrgyzstan for the first time. The EWC National Finals, organized by PEAK with support of UK aid, aimed to identify a local start-up that will have a chance to take part in the Global Finals scheduled for October and offering US$ 1 million in cash prizes, investment opportunities and another US$75 million in in-kind support. Out of ten solid start-ups that virtually pitched in front of a panel of judges, Evgeniy with his OptimTrade project emerged as the national winner. "After participating in PEAK's Tech Accelerator programme, I felt myself confident to present my start-up project in global startup competitions", said Evgeniy.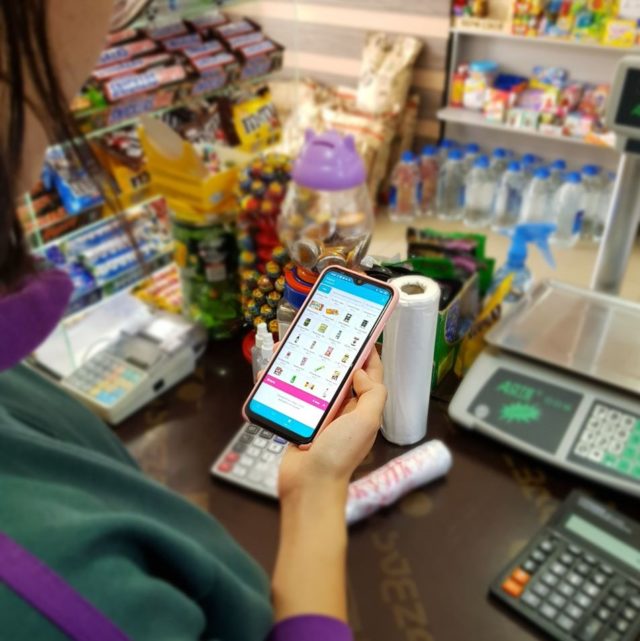 Grocery owner is ordering the commodity items using the OptimTrade mobile app
"My start-up project was like a child that had been crawling and started taking first steps after joining the PEAK."
The long-term plans of Evgeniy include adding more functionalities to his app and creating an ecosystem that connects producers/suppliers, sellers, buyers, business associations and state authorities. The app will offer networking, regular updates on amendments to legal regulations, customer loyalty system, product ranking tool and the largest database of local producers representing diverse economic sectors for potential buyers or investors interested in the Kyrgyz products. Evgeniy will also initiate establishing logistics centres in the regions that will stock and deliver commodities to sales points upon orders via the OptimTrade app. This initiative will create new jobs, reduce transportation and distribution costs for suppliers, which will potentially result in the reduced price of commodities for end users.
Evgeniy Tyan is just one of many start-up founders benefiting from UK aid support through the PEAK Bishkek Business Innovation Centre. Since January 2020, PEAK has provided acceleration and pre-acceleration programmes to over 30 start-ups and micro and small enterprises. PEAK aims to promote innovation and economic inclusion by supporting local youth, women, returning migrants and other disadvantaged groups to enable them to build life-changing ventures and create new jobs and income-generation opportunities.