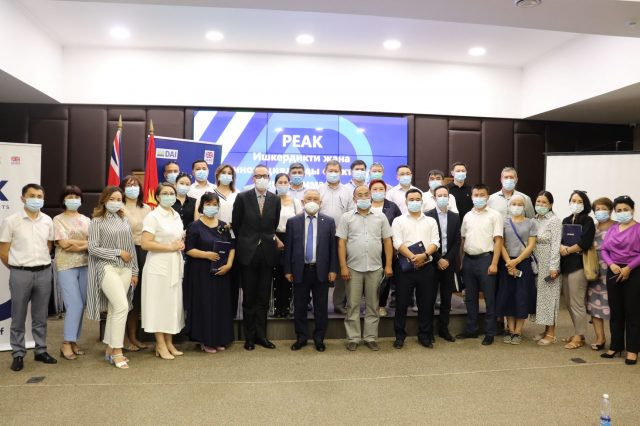 On June 16, 2021, the British Ambassador to the Kyrgyz Republic, Mr. Charles Edmund Garrett, and the Plenipotentiary Representative of the Cabinet of Ministers in Osh oblast, Mr. Zharasul Abduraimov, officially launched the PEAK Business Innovation Centre in Osh city.
The PEAK Osh Centre is the second business innovation centre established under the PEAK Enterprise and Innovation Programme (branded as 'PEAK'), a four-year initiative funded by UK aid from the United Kingdom Government. The first business innovation centre was launched in Bishkek in February 2020.
"The Center will provide skills and knowledge to transform business ideas into viable enterprises and expand the export readiness of Kyrgyz-origin goods and creative services to markets beyond Kyrgyzstan", said Mr. Charles Edmund Garrett in his welcoming speech. Emphasizing the commitment of the United Kingdom to supporting the Kyrgyz Government in promoting sustainable and inclusive economic growth in Kyrgyzstan, Mr. Charles Edmund Garrett noted that the ultimate impact of these joint efforts will be new jobs for local families and additional contributions to the state budget, for the sake of a prosperous Kyrgyzstan.
"There are many talented and creative young people in Osh. We believe that the PEAK Centre will support aspiring and growing local entrepreneurs in accessing new markets and introducing good technologies, in particular for the processing industry in agriculture", said the Plenipotentiary Representative of the Cabinet of Ministers in Osh oblast, Mr. Zharasul Abduraimov. He also added that ten days ago a Centre for Innovative Ideas was established under the oblast state administration and expressed hope for cooperation between the two centres.
The PEAK business innovation centres work with startups and MSMEs representing diverse economic sectors to improve their ability to start, grow and develop their businesses. The key goal for PEAK is to sustain and create jobs, apply good and innovative business practices, and support Kyrgyz entrepreneurs, including youth, women, migrants and other marginalised groups, to enable them to build life-changing ventures.
The PEAK Osh Centre launched its activities online initially, in February 2021, with its first virtual pre-acceleration programme 'Jash Ishker' that targeted aspiring young entrepreneurs. As a result, thirteen young entrepreneurs from Osh mostly, but also from Batken, Jalalabad, Naryn, Talas oblasts and Bishkek unleashed their entrepreneurial potential in various sectors, such as education and skills development, commerce, small scale production, tourism and fashion. During programme implementation already, these new businesses successfully earned KGS 95,800 from their first sales.
The second programme – Migrant Ishker – was launched on June 11th and will last for seven weeks. It targets recently returned labor migrants and will utilise a mix of online and offline sessions to provide extensive knowledge and skills on launching and doing business successfully. At least two further business support programmes will be delivered by PEAK Osh this year.
So far, the two opened PEAK business innovation centres in Kyrgyzstan have delivered six business support programmes to over 100 start-ups and micro and small enterprises (67% of which are women-owned). These supported businesses self-reported positive revenue growth and created more than 50 new jobs.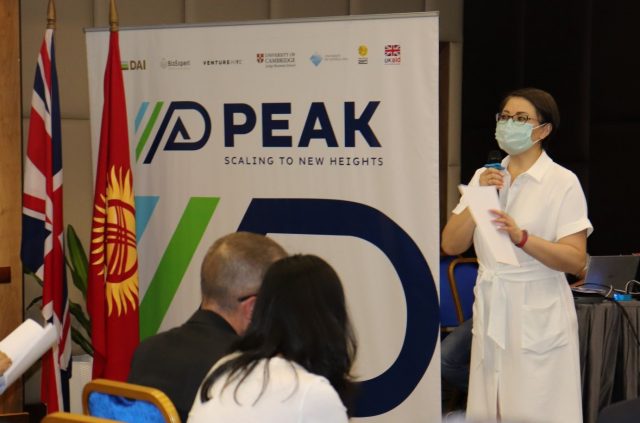 About PEAK Programme
PEAK Enterprise and Innovation Programme is funded by UK aid from the UK Government and helps transform entrepreneurial ideas into sustainable businesses. PEAK Programme establishes business innovation centres (or BICs) that provide business support programmes virtually or onsite, and guide starting entrepreneurs and growing businesses on formulating a business solution to a problem, and develop their knowledge and skills in product development, business strategy modelling, marketing, financial planning and raising finance from investors and funders.