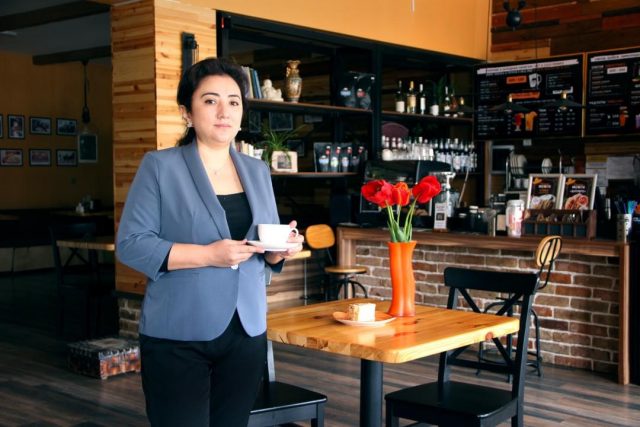 Madina Balahishova, Founder of the Madanur Hotel, in front of coffee shop on the first floor of her hotel
The story of Madanur Hotel and her current owner Mrs. Madina Balakhisheva started in the early nineties when her parents bought the building (of the current hotel) and opened a small café and store. In 2006 the business was expanded by opening a hotel on the second floor of the same building. The hotel hosted tourists and it was a popular venue for various conferences and trainings of international organizations in Kyrgyzstan. Meanwhile, Madina and her husband had been working as managers in a 4-star hotel in Almaty, Kazakhstan. In 2012 Madina's parents decided to sell the family business.  Upon being told this news, Madina and her husband made the immediate decision to return to Karakol from Almaty and run the business by themselves. Their managerial experience in the hotel business and the new technologies they brought from Almaty contributed to the development of their new brand  "Madanur Hotel". This is how Mrs. Madina Balakhisheva's entrepreneurial journey started – a successful businesswoman, who is passionately in love with her business.
Madanur Hotel has become a key player of the tourism ecosystem in Karakol. Throughout its history, it has been actively involved in a variety of projects to develop local tourism and hospitality. Madina has continued her mother's legacy by making her own contribution to the development of the tourism sector in Karakol. Madina strongly believes that a tourist destination can be developed by the efforts of the local business community. In her opinion, tourists and guests visiting Karakol should have a variety of choices to stay, dine and entertain. Madina is a member of the Karakol Tourism Destination Organization, founded by tourism services providers. Together they implemented numerous  projects and one of them is River Park in Karakol – a beautiful park open for local citizens and tourists.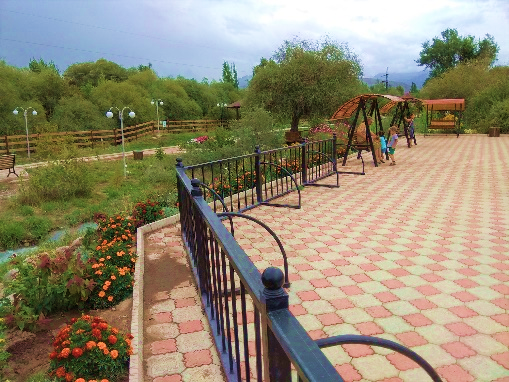 River Park in Karakol
"We always strive to follow trends in the tourism business," says Madina.
Madina was one of the pioneers in Karakol who started to use the global booking platform, Booking.com. The COVID-19 pandemic hit the tourism sector hard and Madanur Hotel also found itself in a difficult situation. However, Madina spent this harsh time wisely by participating in an educational business support programme provided by PEAK Bishkek Business Innovation Centre funded by UK aid from the Government of the United Kingdom.
Later in 2020 Madina successfully graduated PEAK's Grow Your Business Acceleration Programme, which helped her re-habilitate her business after the lockdown period. The knowledge gained from the acceleration programme helped to generate and launch new business ideas.
"The Grow Your Business" Acceleration Programme gave an impetus to my business and belief to me", said Madina.
Financial management knowledge and skills learned from the programme helped her to confidently negotiate with banks on funding. Thus, Madanur Hotel re-financed an old loan, increased its credit line to 3 million KGS, and reduced the loan's interest rate significantly.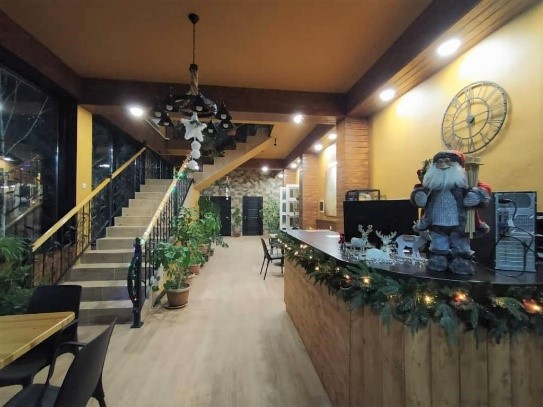 The first floor of the Madanur Hotel
Another achievement for Madina after graduating the Grow Your Business Acceleration Programme was receiving financing from Accelerate Prosperity. "All the skills and knowledge I gained from Grow Your Business served as a basis for producing a quality business project and professional pitching in front of the accelerator's investment committee. Accelerate Prosperity selected our project after a tough competition", shared Madina.
In February 2021 Madanur Hotel started building a new conference hall for hosting big events. For the first time also Madanur launched a spa service. Soon, Madanur is also planning to become a smart hotel by using green technology, and Madina Balakhisheva is not resting she is preparing to launch a new business – a delivery service company – in Karakol.
About PEAK
PEAK Bishkek Business Innovation Centre was established under the PEAK Enterprise and Innovation Programme funded by UK aid from the UK Government. It offers startups, micro, small and medium enterprises representing diverse economic sectors nationwide the unique opportunities for transforming their ideas and products into viable businesses or scaling their existing businesses nationally and to regional and international markets. By April 2023, PEAK programme plans to accelerate more than 400 startups and MSMEs in Kyrgyzstan, thereby contributing to the retention and creation of local jobs.